The Alderwood Teddy Bares Masters Swim Club has about 60 members, comprised of men and women aged 18 to 90+ years. Whether your aim is to increase your fitness, train for triathlons, or compete at swim meets our team is for you. You swim and train at your own level and pace.
Our practices are held in a 6-lane, 25 yard pool in south Etobicoke at Alderwood Pool. We swim 3 practices a week during the main season while during the summer, beginning the end of June, we scale down to 2.
Club History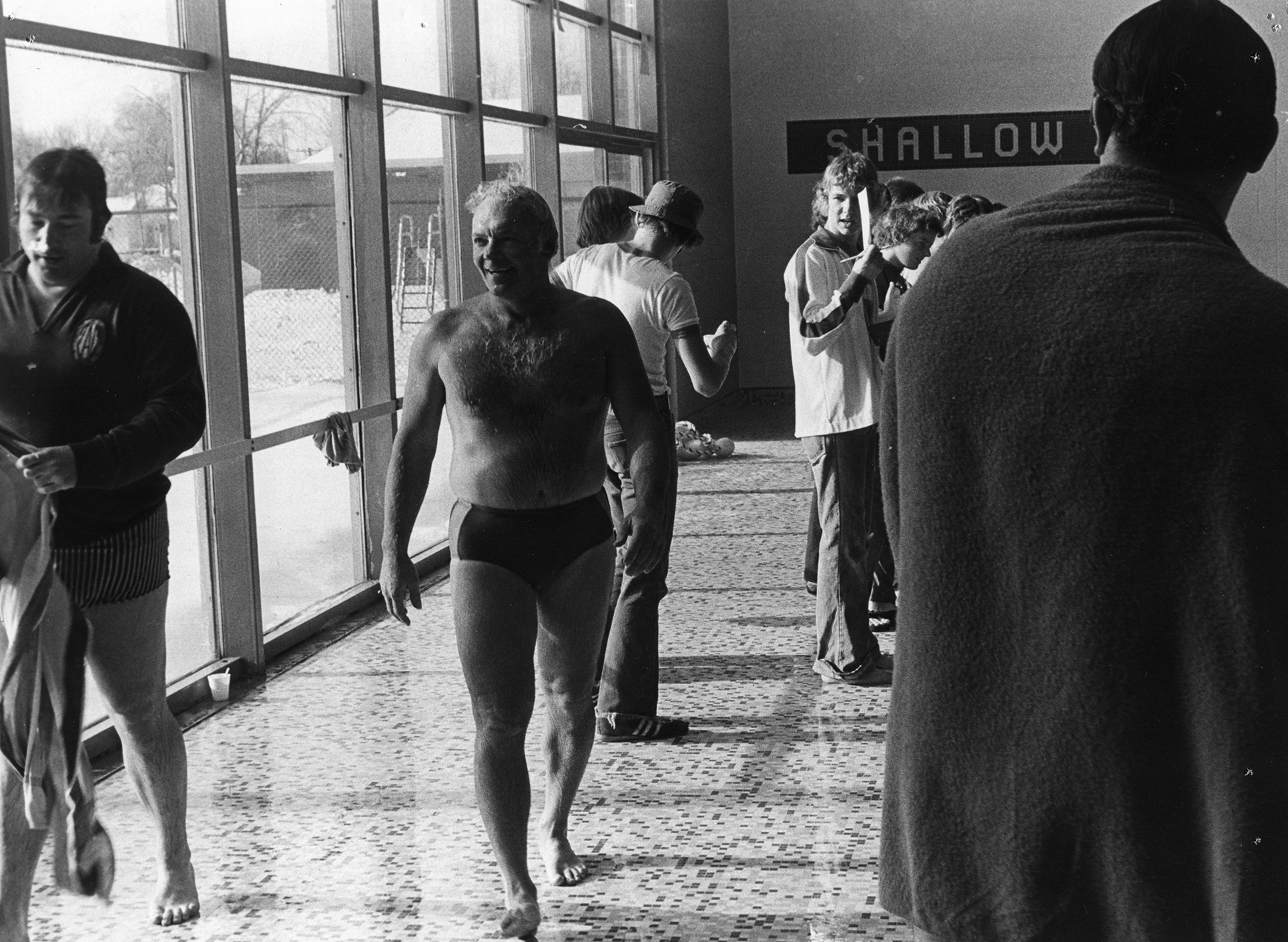 Ted Roach, 1975
The early years of Masters Swimming in Ontario were characterized by the desire of parents of the young swimmers to be active. Recognizing the competitive spirit of parents of the Alderwood Swim Club, Ted Roach initiated the Alderwood Masters in 1973.
The first meet attended by Alderwood Masters was at the School for the Blind in Milton in 1974. Although the rookie Alderwood swimmers had a tough time with rules at the meet they were energized to host a meet of their own. The first Alderwood Masters meet took place in 1975 and it holds the distinction of being the longest running masters swim meet in Canada. In October 1975 Alderwood hosted the first Ontario Provincial Championships.
(Ted Roach co-chaired with Baron Drobig, the first World Acquatic Championship for adult swimmers, held in Etobicoke in 1978. This was the first multi-disciplined aquatic meet for Masters Swimmers. Of course, FINA now oversees the World Championship, but the seed was sown 30 years ago.)
The mascot for the Alderwood Masters was a very large teddy bear to honour the founder of the club, Ted Roach. To incorporate the team mascot and to recognize the skimpy attire worn in our sport, the club became the Alderwood Teddy Bares (ATB).
Over the years our swimmers have distinguished themselves with Provincial, National and International records. Members of the club range from former Olympians, tri-atheletes, and individuals with no competitive experience at all. Social events like our monthly pizza night, Christmas party and Sports Day give members and their families a chance to interact.
Ted Roach: 1973 -1993
Sandra Lawson: 1993 – 1994
Rob Bolychuk & John Greaney: 1994-1995
Patty Thompson: 1995 – 2000
Stephen McLean: 2000 – 2005
Kim Lumsdon: 2005 – 2009
Eric Martin, Gregg Thurlbeck, Bryon Slade:  2009 –  2010
Eric Martin & Gregg Thurlbeck: 2010 – 2011
Gregg Thurlbeck: 2011 – present
Social Events
The Alderwood Teddy Bares have a few social events they conduct each year including a summer barbeque, a Christmas party and Sports Day. We also hold Pizza Night at the local pizzeria every first Wednesday of the month after practice.
Sports Day
For over 25 years, an annual event for the Teddy Bares has been Sports Day, held at a cottage on Lake Simcoe. Teammates can bring along family members and friends to join in the full day of competition, food and fun. Events include an open-water swim, run/walk, cycle, horseshoes, basketball and an obstacle course. Competitors young and old score points for their success in each event. A unique log trophy recognizes the winner of the day.
Athletic events don't take up all of the day. There is time to relax, have fun on the waterfront and share in three meals. We look forward to a sunny and warm summer day once again this year..